Warning
: Use of undefined constant max_events - assumed 'max_events' (this will throw an Error in a future version of PHP) in
/home/spiderm3/public_html/bathurstrotary/wp-content/plugins/wplistcal/wplistcal.php
on line
506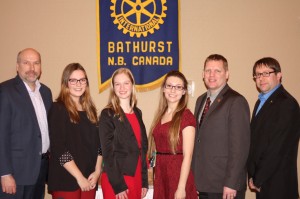 BHS participants  – From L to R
Robert Vautour, Event Chair, Rotary Taylor Kennah, participant….& winner
Olivia Hamilton, participant
Catherine Eddy, participant
Sean MacDonald, Principal BHS, Rotarian
Gilles Deveaux Rotary President
The winner of today's speaking contest is Taylor Kennah. Taylor got 15 first place votes out of 20 sheets collected. Taylor will be going to Ottawa in early May for 4 days to attend the 65th Adventure In Citizenship Program. I'm sure she will be a great ambassador for our club and our region.
Thank you
Robert Vautour  Regional Manager, Northern NB
Guest Speaker: 3 BHS Students speaking in Rotary's Adventure in Citizenship Program
Bathurst Rotary club has participated in this program for some 60 years; the winning student wins a speaking contest held at a Rotary meeting, speaking on What it means to be a Canadian Citizen. Bathurst Rotary sponsors the student to participate in the Rotary Adventure in Citizenship Program, in Ottawa, May 3, 2015 to May 6, 2015, along with students from across Canada sponsored by Canadian Rotary Clubs.
The participants in order of their presentations:
Catherine Eddy
Olivia Hamilton
Taylor Kennah
The winner…..the envelope please…..Taylor Kennah,-  Congratulations to each participant!!!