Warning
: Use of undefined constant max_events - assumed 'max_events' (this will throw an Error in a future version of PHP) in
/home/spiderm3/public_html/bathurstrotary/wp-content/plugins/wplistcal/wplistcal.php
on line
506
Club President adds name to the list!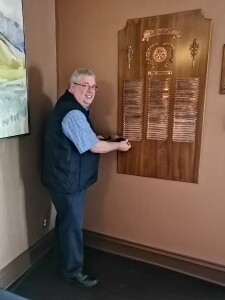 Bathurst Rotary Club President Peter Assaff adds his name to the plaque that lists all the Presidents in the history of the Bathurst Rotary Club.  The list dates back over 80 years and is displayed at the Atlantic Host, where the club meets each week.
An interesting note – Peter joins his brother Keith on the board, as Keith was President of the Rotary Club of Bathurst a little over a decade ago.  Their sister Vicki White is a proud member of the club too – maybe she'll add her name to the list someday!  All three follow in the footsteps of their Grandfather A.J. (Tony) Assaff, who was a member of the club more than 50 years ago.