Warning
: Use of undefined constant max_events - assumed 'max_events' (this will throw an Error in a future version of PHP) in
/home/spiderm3/public_html/bathurstrotary/wp-content/plugins/wplistcal/wplistcal.php
on line
506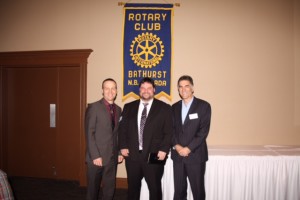 Shown in Photo:  Frederic Lefrancois, Paolo Fongemie, and Bernard Cormier
Paolo Fongemie, Directeur CCNB Bathurst was guestspeaker:
Spoke about the Crash Ice race on College Hill
Last year was the 1st event, organized by College, strongly supported by the Community
Attendance approx. 3,000…excellent
Red Bull sponsored, has races in Quebec, Bathurst, Germany, Finland, Minnesota
Last years attendance so good in Bathurst that Red Bull is sponsoring here again
College supports through class participation (Plumbing Welding Business etc.), Community and local businesses provide support (a real Community event)
International competitors, US, Canada, Switzerland, Germany Finland, Belgium, Holland, Australia
Total of 136 registrants so far
If attendance can be increased (5000) a good chance Bathurst will be on the circuit next year
Come and cheer the competitors on!