Guest Speaker: Kelly Gauvin, Grade 11 student at ESN
Topic: Volunteer aide Trip to Nicaragua to build a school, (either finish a previous school building project or start a new one).  Nicaragua is the 2nd poorest nation in the western hemisphere after Haiti with low levels of literacy and lack of schools.
Aide groups are coordinating the efforts of student groups and provide funding for school construction materials and teachers once the school is built.  17 students to go, cost is $4000 per student, each student to pay half of this amount.  Kelly has raised money through several initiatives, e.g. garage sale & BBQ, running a canteen, bingo, car wash.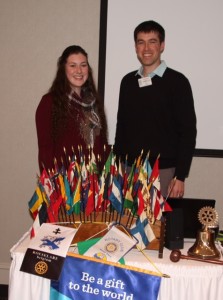 Guestspeaker Kelly Gauvin shown with Rotarian Adam Chamberlain